-Blogoversary Guest Post- Alishia @Treasured Tales For Young Adults
BookPic-ERS Welcome back to another day of celebration!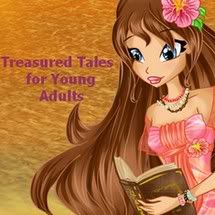 I've been a follower of hers for quite some time now and I'm really happy and excited that she agreed to make a guest post when I didn't even give her any hint as to what she could possibly write about!
Also, what rocks is that we're both celebrating our blog anniversaries this month! We're getting together for a giveaway she'll be hosting so keep an eye out for that!
So without further ado I leave you with Alishia XD
I'm very excited to be visiting BookPics today to help celebrate its blogoversary. A big congratulations to Alba on her lovely blog turning one. I am very honoured that Alba asked me to be a part of her blog celebration. She has been a great supporter of my blog - Treasured Tales for Young Adults (thanks Alba).
I thought for my guest post, I would talk about why I love to read and what inspired me to become a book blogger.
When I look back on my childhood, reading was such a huge part of it. I was the type of child that always had a book in their hands. Mysteries, detective stories, puzzle books, supernatural books, The Babysitters Club, Sweet Valley High, Choose Your Own Adventure, Usborne Puzzle Adventures...I read them all. One of my favourite places to be was my primary school library; I loved it. I was in there all the time - looking at books, reading books and borrowing books. I just loved to read.
Then I became a teenager...
Reading just seemed to disappear from my life. It wasn't an overnight occurrence, but over time I started reading less and less; other things just got in the way. High-school, homework, music, movies, television, and friends were what I spent my time on, and reading just became that old friend that I occasionally said 'hello' to.
Then one day everything changed...
I read Twilight by Stephenie Meyer. It changed my life. I loved each and every book in the Twilight series and to this day they are still my favourite books. Twilight gave me such a beautiful gift: it gave me back my love of reading; it opened up the world of books to me again. With every book I read my love of reading just grew and grew, and it made me remember a dream of mine that I had when I was a child: to be an author.
Because of Twilight, I got my love of reading back, re-discovered my childhood dream of being an author and, not only that, it made me realize that I now want to work in a library. All these factors contributed to me starting my blog – Treasured Tales for Young Adults.
I want to share my love of reading with others and, most importantly, I want to help stop teens and young adults from making the same mistake that I did: not reading.
Novels are such a beautiful gift that we have in this world. Stories are magical; they can be an escape from the real world, a friend, a comfort, an inspiration, and they can open up so many possibilities. I realize the gift that stories are and I will never go back to not reading – books are too beautiful.
Thank you for reading my story. You can say hello to me anytime over at Treasured Tales for Young Adults. Thanks Alba, for inviting me to be a part of your blogoversary celebration and congratulations on your beautiful blog.
Thank YOU Alishia! For agreeing to this! And happy Blogoversary to you too! >.<
Blog
Reminder
Also. If you want, go ahead and drop by the Blogoversary Post and enter the giveaways.