Blogoversary Question-Attack with Donna @BPFL
Another day of celebration! Hope you're enjoying and stalking away!!
~gasps~
Donna from Book Passion For Life is my victim, I mean, guest today :D
If I started to tell you how I met Donna you'd fall asleep before actually getting to the interview itself but let's just say I met her before she started the blog with Jess :D
She's an amazing person and blogger AND I'm actually completely jealous of her accent, thank you very much!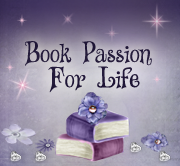 Thank you so much for asking me to take part!
1. We can't start without trying to know a bit about yourself. So, can you tell us a bit about you?
Hi, I'm 26-year-old mother of one and I currently live in Birmingham with my daughter and partner. I work part time in a boring office job renting houses and I'm a full time I'm a blogger over at Book Passion for Life (which I love). I love reading, I love food and I love chocolate! =) Oh and hot fictional guys!
2. What do you think are your strongest and weakest points at being a blogger?
Strongest would probably be how organized I am and weakest is my grammer. LOL
3. What was your favorite book as a kid?
Arrr don't shoot me now but I hardly ever read when I was a kid. It's one of my biggest regrets and it wasn't until 3 years I started reading.
Alba: GASPS Oh Cloud, oh CLOUD! THE BOMB!! You've thrown me a nuclear bomb right there! LOL
4. What's your favorite genre to read, why?
I adore Paranormal Romance because I love the unique stories that come up but recently I've started to favour Contemporary Romance...so who knows, my favourite may change soon.
5. Tell us your top 5 - I know this is a hard one so you can always add extras- authors and which book of theirs you like the most?
Top 5! Grrr! That's hard! LOL.
1) The Iron Fey Series by Julie Kagawa - How could you not love this series? It's amazing! 2) Covenant Series by Jennifer L.Armentrout - even though there is only two books released so far....Jennifer's work is outstanding and I love Aiden!
3) Fifty Shades of Grey by E.L James - Yep, I do like the odd adult book and this is by far the best.
4) The Mortal Instruments by Cassandra Clare - Jace Wayland....need I say more?
5) The Perfect Chemistry by Simone Elkeles - My first ever Contemporary Romance read and I loved it! Hence why it's a favourite.
6. What's your favorite quote?
I honestly don't have one!
7. What was your favorite past time as a kid, is it the same now?
~LOL~ Watching TV! I was a real telly head when I was younger and I was the same until I started reading.
8.If the Earth suddenly became uninhabitable, would you rather live under the sea or in space?
In space providing I had everything I need like food, water, clothes etc....
9. Any pet peeves you'd be willing to share with us?
Rude people. Grrr!
10. If you could live in any period of time other than the present, which would it be & why?
I wouldn't mind going back to Victorian times and wearing them big old dresses. LOL
11. Favorite Music?
Such a girly thing to admit but so Britney Spears. Love her work!
Alba: Actually nope, I LOVE you for this! hahaha my favorite artist of all time is exactly her >.<
12. What's the funniest thing a follower has ever asked you?
~LOL~ Ha! One girl asked me what country I was from because she couldn't understand my accent. I was like Hello...I'm British!! LOL
Alba: Hence my dark envy aura
13. Any secret obsession that you'd like to convert to non-secret?
Nope, I'll keep all my secrets nice a tight - thank you though! ;)
14. If you could be any female character of any book, which one would it be and why? ~I'm really curious~
Wow, tough one! Can I pick two? LOL. I'd have to go with Alex from Covenant Series because I love how head strong and loyal she is...plus she has Aiden and then Ana Steele from Fifty Shades Series...well she does have Christian Grey...and that really says it all.
15. What's your current read & what's next on the pile for you?
My current read is Surrender (Haunting Emma #3) by Lee Nichols and my next read is....Dark Heart Surrender by Lee Monroe.



Now with the quicker than quickest ones hehe <--- Does that even make sense?

-Ocean or Forest
Forest
-Tea or Coffee
Neither
-Sweet or Salty
Sweet
-Original or Remake
Remake
-Drama or Comedy
Drama
- Summer, Spring, Autumn or Winter
Autumn
-Skittles or M&M's
M&M's
-Read With music or Without
Without
-Early Riser or Night Owl
Early Riser
-Describe yourself in 3 words!
Honest, Friendly, Outgoing
Thanks again Alba and I hope I haven't bored you too much!
Thanks to YOU Donna and for never ignoring me *_* I loved and loved and loved your answers! hehehe Sorry for the attack though...I promise no awesome bloggers were harmed while doing the interview.
You would never bore me Donna ¬_¬ ~shooting daggers~
Places to stalk Donna
Blog
Twitter
Goodreads
Facebook
Reminder
Also. If you want go ahead and drop by the Blogoversary Post and enter the giveaways.